Yep, the stateside adaption of the hugely popular ITV dating show is currently airing its third season and fans who have grown bored with the UK version have flocked to Love Island USA for all the steamy scenes and love triangles galore.
In case you didn't already know, Love Island USA follows the same format as the original British version. Around 10 single men and women couple up together with one or two extra 'bombshells' added into the mix to stir the pot and cause friction between the couples.
Each week the islanders must re-couple to avoid being dumped from the island. The islander who is left single must leave the villa immediately.
Love Island fans in the UK have managed to find clips from the current Love Island USA season involving favourite islander Cashay Proudfoot, 25, passionately snogging Isaiah Harmison, who lifts her in the air and onto a nearby sofa where the pair continue to kiss.
After the clip circulated on social media, Love Island UK viewers were left feeling a severe case of FOMO.
"Honestly the US version is wayyyy better," one user said, suggesting viewers check the show out once it drops on ITV.
Another commenter quipped: "Why don't they just broadcast this for us instead."
While a third referenced the disgusting spit roast Love Island UK challenge from last week. "Meanwhile contestants in the U.K. are spitting in each other's mouths," they joked.
And that's just the tip of the iceberg. In one naughty challenge called 'all lubed up' the ladies - who were dressed as mechanics- are splashed and sprayed with water as they dance. Then they picked one male Islander to receive a special solo dance and Trina Njoroge, 25 chose villa heartthrob Cinco, 25 and the islanders were left shook by their passionate tryst.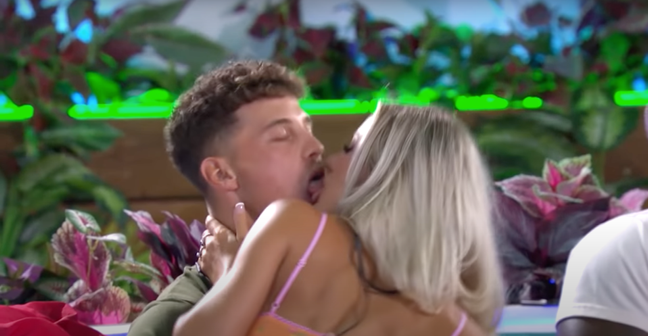 Shannon St. Clair, 25, and Josh Goldstein, 24, have been coupled up since the start of the show and while Josh's head was turned by bombshell Aimee Flores, 26, and Shannon got to know Isaiah when he first arrived, the sparks between them has continued to explode. Shannon and Josh had a very intense make out session after playing a heated game called 'unboxing' which is essentially pass the parcel but with dares instead of gifts.
There's also an abundance of drama this season too. One of the biggest love triangles involved Cinco who was coupled up with Cashay but was ultimately lured away by Trina. Tears were shed, friendships were shifted and the villa's dynamic completely changed.
Florita Diaz, 27, is torn between Korey Gandy, 28 and Jeremy Hershberg, 27. And to make their love triangle an even more confusing shape, Aimee is also pursuing Jeremy while new boy Wes Ogsbury, 24 and Isaiah (yes, that Isaiah) set their sights on Aimee.
Fans in the US can see how this plays out weeknights from Tuesday to Friday and Sunday on CBS at 9pm. Love Island USA has previously aired in the UK on ITV 2, but with the original series still airing, it could be a while before it makes it across the pond.
Love Island is on weeknights at 9pm on ITV and ITV Hub . The episodes are available to stream on BritBox the following morning.
Can't get enough of Love Island? Join our Facebook Group - Love Island Obsessives - and keep up to date with the latest drama.