The most recent series of Love Island was unforgettable for a number of reasons, but it was Faye Winter's kick-offs that got us all talking.
One of her most 'memorable' outbursts saw her lash out at partner Teddy Soares over Casa Amor, where she (wrongly) believed that he had been chatting up other women while over at the other villa.
Now, Faye has seen the real Casa Amor clips, and safe to say she's got some strong feelings about them.
Taking to her Instagram stories, Faye sarcastically wrote: "The FIRST time I've seen the real Casa clips [crying emoji] not crying at all and don't feel like even more of an idiot!"
The clip that Faye chose to share saw Teddy speaking to numerous bombshells about his feelings for Faye, saying he "missed" her and speaking candidly about how she is always on his mind.
She then added sugary sweet clips of her in bed with Teddy, which she captioned: "And darling, this is more than anything I felt before. You're everything that I want, but I didn't think I'd find someone who is worth the wait of all the years of my heartbreak.
"But I know now I found the one I love."
Faye has recently spoken out about her time in the villa, and has since admitted she "got things wrong" with how she acted.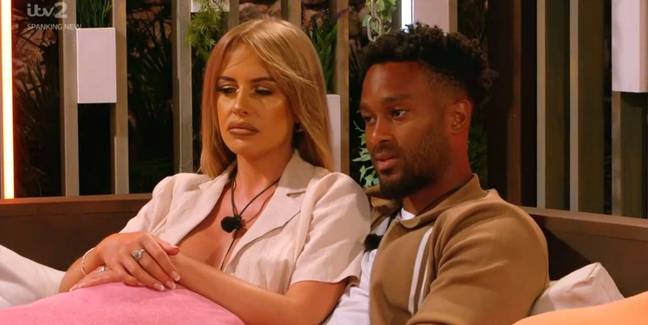 "I'd be lying if I said that when I saw 25,000 complaints, I wasn't upset – I was already embarrassed about the situation," she told Grazia.
"There were times I dealt with it completely wrongly, and everyone unfortunately got to see that.
"[It] allowed me to realise that I couldn't run, I had to deal with my problems face on. And that's one thing I'm grateful for – because I don't think I would have ever overcome that."
Love Island is available to stream on ITV Hub.