Love Island fans are raging after spotting a hidden detail on the Casa Amor postcard which sent the girls spiralling.
One photo showed Teddy kissing Casa Amor bombshell Clarisse, leaving Faye distraught back in the main villa.
You can see the girls' reaction here:
The photo suggests Teddy is exploring a romantic relationship with a new girl - however some viewers have branded it "misleading" after pointing out that the photo was taken during a game of dares.
When asked Abigail asked if she would feel bad if Teddy returned to the villa alone while she was coupled up with someone new, Faye said she wouldn't mind because it's "not [her] problem."
Viewers took to Twitter in droves calling for Faye to learn the truth and to defend Teddy's actions in Casa Amor.
One viewer said: "The fact that Faye had no idea Teddy is waiting for her and misses her. PRODUCERS PLAY DIRTY."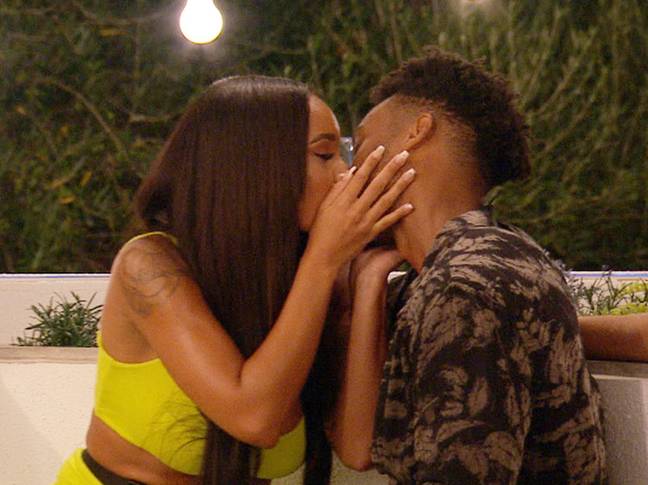 While another fan said: "It's genuinely heartbreaking watching someone (Faye) who clearly has trust issues, be manipulated into spiralling. The context of Teddy's kiss still ain't wonderful but it's vastly different to the conclusion Faye is obvs gonna jump to. I wanted drama but not this."
And a third viewer tweeted: "'I was sleeping on a day bed for three days'
SO WAS TEDDY, FAYE PLS TRUST HIM".
"NO FAYE TEDDY IS THE ONLY ONE BEING LOYAL," added another Twitter user.
Tyla has contacted Love Island for comment.
Love Island is on weeknights at 9pm on ITV 2 and ITV Hub. The episodes are available to stream on BritBox the following morning.
Can't get enough of Love Island? Join our Facebook Group - Love Island Obsessives - and keep up to date with the latest drama.