The real estate agent welcomed her first child, a son named Christian Georges Dumontet, in May. She was busy filming scenes for the upcoming fourth season of Selling Sunset when in the hours after shooting alongside her boss Jason Oppenheim, Christine's waters broke 'four to five weeks early'.
"I was filming a scene with my boss Jason actually, and I went home to take a nap after filming, I laid down for about 30 minutes, and my water broke," Christine says, who is all smiles wearing a gorgeous purple faux fur coat when Tyla meets her on Zoom for the launch for her Ciaté make-up collection.
"I was rushed to the hospital, I was four or five weeks early, I had a baby. And I was back to work a week later.
New mum Christine celebrated her son's two month birthday by telling fans on social media about his 'dramatic' entrance to the world. In a touching Instagram post, Christine said she and her son are 'lucky to be alive' and thanked the doctors and surgeons who saved both of their lives.
After the surgery, Christine was in bed for four days on a catheter and experienced excruciating pain. One week after becoming a mum, she was back at work, which drew criticism from trolls online, some of whom pondered whether Christine had secretly hired a surrogate.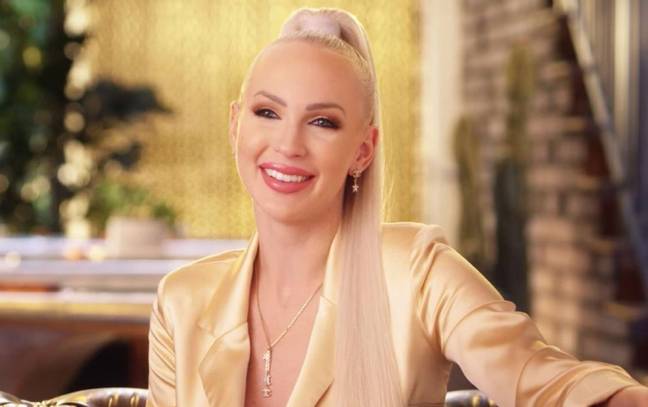 "That was a lie," she says in response to the trolls. "The only thing that made me feel better, was walking, finally being able to walk back and forth from the bathroom. The more that I was walking, the better my body started feeling and I was able to heal myself.
"I got to this point where I was feeling better by physically walking and by doing things, whether it was small tasks in the kitchen, you know, even going into the office and just answering my emails. It made me feel normal again."
That being said, Christine emphasises that the recovery period is different for all women. "I had a C- section and I was in bed for one month and you know what, I don't feel sorry for myself at all. I don't. I just knew that I had to get up get walking, be active and not push myself too hard."
Famously hardworking, Christine's next project is outside of the realm of real estate and in the world of cosmetics. Her partnership with Ciaté includes an eyeshadow palette, lip gloss, power and even colour changing lip creams.
"We wanted something that was very innovative, so it took a while to create this lip flip that change colours with hot and cold. And that's something that was never, ever been done before so we really broke the mould with that and it took a while to perfect but I'm glad that we did, because I think people are gonna go wild for this," she said.
The entire 'universal, all-inclusive and unapologetic' collection was in development for just over a year and Christine couldn't be more excited for it to come to life. "This collection is very unapologetic because it's me, it's sweet and sassy, it's showcasing the duality of not only my personality; everyone has different sides of themselves."
Unfortunately, the launch will not be part of the new Selling Sunset season, which recently wrapped filming and is due to air 'in time for turkey season' later this year.
As well as becoming Christine becoming a mum, recent months in the world of sun-dripped real estate have seen Jason Oppenheim and Chrishell Stause start dating, and two new cast members, Vanessa Villela and Emma Hernan, joined the Oppenheim Group. So, what can Christine tell us about the next batch of episodes? "I think you're going to be really really thrilled [with the new cast members]." Christine says, adding that an unannounced female cast member for the in-production fifth season is "fabulous".
She later teased: "I think you're gonna see different sides to people, I think, you're going to see the dynamics, really shift and I think you're going to see true colours of people come out."
The Christine Quinn x Ciaté collection is available now. Check out the full collection here.
Selling Sunset returns to Netflix later this year.