ITV Studios Warns Jimmy Savile Drama Actors Ahead Of Filming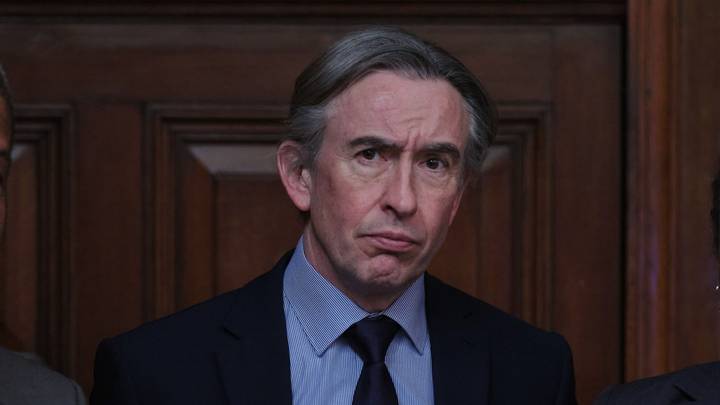 Featured Image Credit: Credit: ITV
Trigger Warning: This article contains content that some readers may find distressing.
ITV Studios, the production company working on the new Jimmy Savile drama warned actors that filming would be 'sensitive', according to reports.
The Reckoning - which stars Steve Coogan in the controversial lead role - will depict Savile's rise to fame, as well as his crimes. The drama is set to air in 2022, and the crew has since been spotted filming.
An extras' advert released by the production company reportedly contained a warning for those wanting to audition. It stated that the programme will "explore the devastating impact of Jimmy Savile's crimes and how he was able to use his position to commit them". They described went on to describe the programme as "highly sensitive".
The advert is said to have emphasised that they "appreciated the sensitive nature of the programme", insisting that "we would rather that individuals are provided with information at an early stage to make an informed choice regarding their involvement".
The drama has been heavily criticised since its announcement, with Steve Coogan (widely known for his comedic character, Alan Partridge) bearing the brunt of the public's anger.
The actor admitted he'd considered backlash before accepting the role, stating he aims to portray the role with "the greatest care and integrity". He stressed that "to play Jimmy Savile was not a decision I took lightly".
The BBC has vehemently defended its decision to broadcast the programme. Piers Wenger (Head Of Drama) stated that the corporation's priority is to "give voice to the victims". He believes it's "important that the BBC do tell that story".
Savile died in 2011, aged 84. Shortly afterwards, his extensive list of crimes surfaced within the public sphere. The royal committee considered posthumously revoking his knighthood and OBE due to the severity of his actions. His charities closed and funds were distributed elsewhere.
Filming has started on location in Manchester, with Coogan spotted in full costume.