M&S Is Selling A Cracked Egg Trifle For Easter - And It Looks Delicious
Featured Image Credit: M&S
If like us, you've already gorged through every chocolate egg in your house, then Marks & Spencer is to the rescue.
Offering up something a little different this Easter weekend, the high-street supermarket is now selling a Chocolate Cracked Egg Trifle.
Suddenly, Easter snacking just got elevated to a whole new level...
Priced at just £12, the trifle is made up of layers of chocolate custard, sponge and chocolate mousse topped with whipped cream and a juicy orange glaze.

It's earned its name because of it's sunny-side up yellow centre and fluffy white edges - and if the egg like aesthetic doesn't make it Easter appropriate enough for you, the abundance of chocolatey flavours will definitely clinch it.
The limited edition trifle is part of M&S's tasty new Easter range, with other goodies including a Family Egg Hunt Box of foil wrapped eggs (£5) and a perfect Percy Pig Egg Hunt Kit (£5) which includes bags, a checklist, decorations, signposts, clues and more.
The Easter Egg range is second to none, too. For the vegans amongst us, there's a £6 Easter Egg appropriately shaped like an aubergine.
Plus, you can also get your hands on Walter - an adorable, chocolate sausage dog.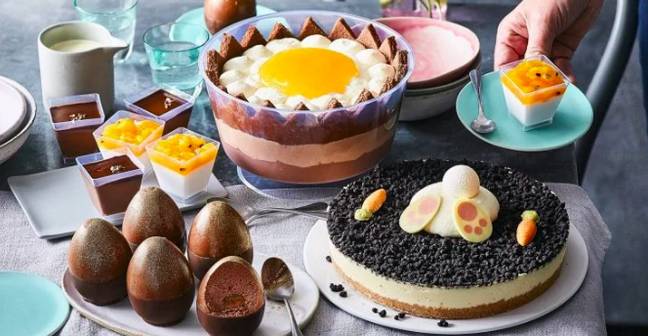 As part of the brand's Easter collection, adorable little Walter is priced at £5 and made from a thick and creamy milk chocolate shell, with a dark chocolate nose and eyes.
Meanwhile, the retailer is also selling a gigantic Percy Pig for Easter. The huge smiling Percy Egg is made entirely of mouthwatering chocolate and features an adorable snout, pink ears and jazzy sprinkled trousers.
It's already available in M&S stores nationwide, and costs £10.
The £5 Colin Easter offering features a creamy milk chocolate egg accompanied by a bag of the best part of Colin - his face. Made from white and milk chocolate, the chunky faces are so moreish.

We're seriously going to be spoilt for choice this year...