M&S Launches Colin The Caterpillar Cake Jars
Featured Image Credit: M&S
The tasty new treats are pretty much what they say on the tin: they're jars filled with cake. Literally, what more could you want?!
Perfectly portioned for picnics in the parks or a lunchtime treat when you're on the go, the 'cake-away' jars are available in three delicious flavours.
You can buy them in fruity raspberry ripple, lavish trillionaire's cake and chocolatey Colin the Caterpillar version.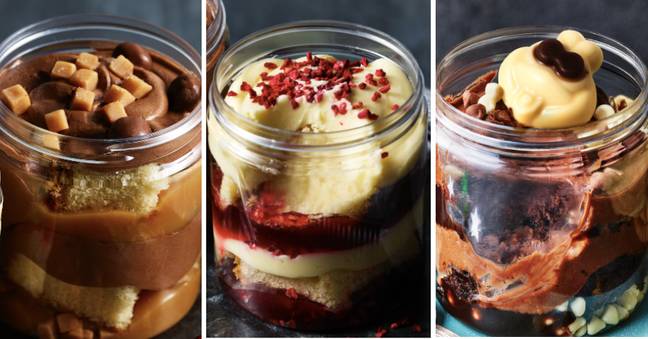 The Colin cake jar is described as being filled with "layers of all the Colin goodness", which is basically a rich chocolate sponge, Belgian chocolate sauce, chocolate ganache, milk and white chocolate chips and and a Colin the Caterpillar white chocolate face.
The Raspberry Ripple version is made up of layers of madeira sponge, sweet raspberry jam, creamy vanilla buttercream and freeze-dried raspberry pieces. Yum.
Meanwhile, the trillionaire's Cake Jar is filled with layers of madeira sponge, salted caramel sauce, chocolate ganache, milk chocolate shortcake balls and fudge pieces.
The jars cost £4 each, and are available in stores from today.

If the cake inside them wasn't enough of a treat, the jars are also re-usable and fully recyclable.
NewFoodsUK was one of the first pages on Instagram to share details of this tasty dessert, and its safe to say people were excited, with 5000 flocking to 'like' the post in the first half an hour.
"Portable cake what's not to love," wrote one person in the comments, as they tagged their friend.
Meanwhile, another penned: "How good do these look".
"Need to look out for these," a third gushed.
Natalie Tate - Lead Product Developer for M&S Cakes said: "These cake jars are absolutely delicious and are perfect for picnics, lunches on the go - or pretty much whenever you need a sweet fix.
"Gone are the days of picking a cake to suit all tastes - you can now mix and match to suit everyone. Much like an indulgent ice cream tub - there is something about diving straight in with a spoon that make the experience all the more delicious.
"I LOVE the trillionaire's, it is the ultimate in indulgent, chocolatey caramel goodness - a must try! But of course, all are delicious."