PSA: Everyone Can Get Free Coffee From Costa Express Machines Today
Featured Image Credit: Costa
If you've got a case of the Tuesday blues, then we've got some news that might just cheer you up.
Yes, the coffeehouse has announced that all of its Costa Express machines across the UK (sadly excluding Northern Ireland) won't be charging anything for today only (1st October).
Customers will be able to use any of more than 8,500 participating machines to grab themselves an Americano, Latte, Espresso and Cappuccino, or hot chocolate on the house.
You'll be able to tap away at the sophisticated touch screen to order your coffee, where can you also personalise your coffee if you like by adding extra shots or syrups to your drink.
Coffee lovers have been able to grab their free cuppa joe since 00:15am this morning (or whenever the shop with an Express machine in opens).
But don't fear - you've got until 00:15 on Wednesday 2nd October 2019 to claim your freebie.

Express machines can often be found in supermarkets such as Tesco and Sainsbury's. There's a handy map on Costa's website to find your nearest one here.
The coffeehouse also recommends people sign up to their Costa Coffee Club app. Anyone who has the app and bags their free coffee today will be entered into a draw to win free coffee for a year. Just scan the app when prompted at the Express machine.
So why the kind gesture, Costa? The company's Managing Director Scott Martin said it's all to do with changing the perceptions of instant coffee machines.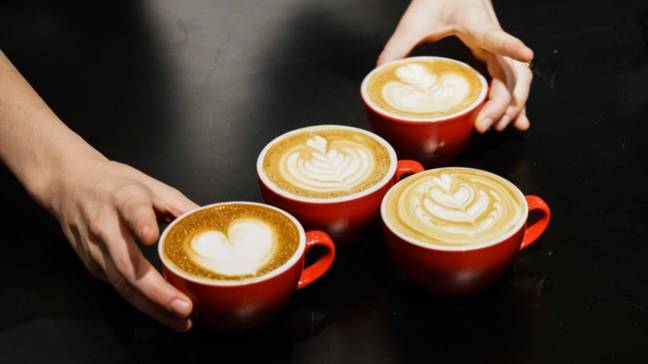 "For years, self-serve drinks machines have carried a certain stigma," he said.
"Freeze-dried coffee, long life milk, clumpy soups and bland hot chocolate were readily stocked in machines across the late nineties and early noughties, so we can imagine how one poor experience is enough to put someone off for life!
"We at Costa Express don't believe this is acceptable and have worked tirelessly to revolutionise the self-serve experience. Our machines serve the same fresh signature Mocha Italia coffee beans and fresh semi-skimmed milk you would expect in our Costa Coffee stores, so the quality of your experience is never compromised.
"We're so confident that once you've tried a cup from Costa Express that it'll fast become a regular part of your routine, so for one day only, we're giving away a free drink to all."
We're prepared to put aside our preconceptions for this one. Cheers Costa!