However one singleton has decided to skip small talk in 2021 by creating a novel way to let men know she's interested in them on nights out in a bid to find Mr. Right.
Unlucky in love Taylah Munro hasn't had an official boyfriend in years and hates using apps to find potential matches, so when she came up with the idea to 'stamp and go' she thought it would be a 'funny and different' way to meet men.
The 27-year-old nightclub hostess from east London literally stamps the men she likes with her contact details. She bought the custom stamp for £20 online, with the message 'MY TYPE vanillatrilla1 DM me'.
Taylah said: "I thought it would be funny and different. No one has time to be going up to people like 'hey, you okay? What's your phone number?' Sometimes people walk past you and you never see them again.
"I was going to a festival the next day and I was thinking 'surely there's going to be loads of good looking guys there'.
"I was thinking if I just get a stamp, it would be like 'stamp and go'.
Footage of Taylah at a club stamping a "stunning" guy at a club made the rounds on TikTok.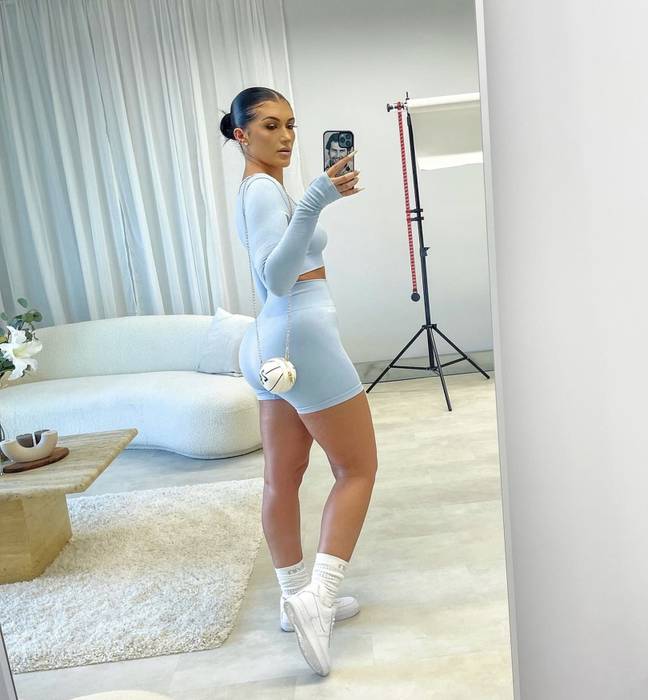 She added: "[After getting the stamp] I went to the festival and didn't see anyone that was worthy of a stamp and didn't end up using it.
"But I went out that night and the boy in the video is actually the only person that I stamped.
"After that, we started talking in the club and exchanged phone numbers. We've been in contact since. The guy doesn't actually live in London but I guess we'll stay in touch.
Since posting the video online, she claims she has been inundated with messages from men trying their luck and falsely claiming she stamped them too. Now she hopes to keep to leave a mark on other prospective dates.
Taylah said: "I told my close friends, my group chat, as soon as I ordered it.
"I was like 'girls, you're going to die at what I've done'. I sent them the order confirmation. They were like 'this is the funniest idea you've ever had. We're so excited to see how this pans out'.
"I'm quite outgoing and do these random funny things anyway, so they obviously found it funny, but they said 'this is so typical of you'.
"I'm trying something new. I've been single for years. I've obviously dated but there hasn't been someone who I've called my boyfriend in a few years. I can't do dating apps. I need to meet people in person.
"It's a good ice breaker because not everyone sees that every day. They might be like 'oh my god, that's crazy. What made you think of that?' Then you'll get talking regardless.
"I probably have about 10 different types. Someone who really catches my eye.
"You're going to see thousands of good looking people every day, but it's different when someone really makes your head turn."
This might be the best dating hack ever?!