You Can Now Buy A Massive Bean Bag Pool Float And It Looks Comfy AF
Featured Image Credit: Amazon
Ah, summer holidays. Lounging in a pool might feel a world away right now, but if you're anything like us you'll no doubt be dreaming of that first sweet dip when we're finally out of this mess.
So, (without wishing to tempt fate) we've found the perfect accessory for when that glorious moment comes.
Introducing the bean bag pool lounger: the ultimate holiday necessity.
Basically a gigantic rectangle large enough to lounge on, fast forward three or four months and imagine yourself dozing with the sun beaming down on you...
The thought of this is literally getting us through this self-isolation, tbh.
Named the King Kai Floating Lounger and available on Amazon, the bean bag is 73 inches by 58 inches, and weighs a whopping 22 pounds.
But despite its hefty weight, the floater attached to it keeps you drifting along on the surface of the water. Result.
The bean bag comes in three different colours, Pacific Blue, Logo Red and Aquamarine.
And while it costs a hefty $184 (£156), we think we can all agree that we deserve to treat ourselves at the moment.
Taking to the reviews, one Amazon user said they found the float online after lounging on one at a pool party in Las Vegas, while another gushed that it was both "durable and comfortable". Win!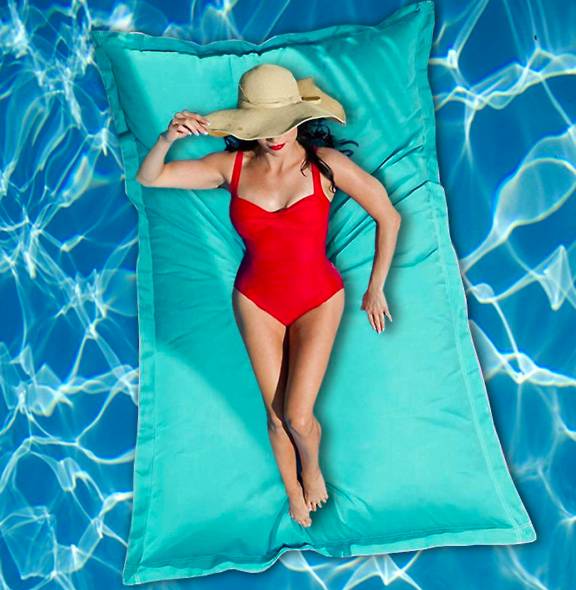 For UK shoppers looking for a similar product, we haven't found you a beanbag, but we've found something just as good.
Over on Fruugo they're selling a massive oversized pillow pool float, which looks sure to offer similar luxury lounging.
At 68 inches long and 44 inches wide, at a significantly lighter seven pounds, the float will support pretty much anyone in water, and
Now on a huge discount, down £125 from its original retail price of £219, you can get your hands on one for just £94.
You'll be the envy of all your mates this summer...