Moab City has confirmed an "outside party" has requested an investigation into their police department, after police bodycam footage recording the altercation of Petito and Laundrie, faced widespread criticism.
You can watch some of this bodycam footage below.
A witness called 911 and reported they had seen Laundrie slap Petito, leading to police pulling the couple over at Arches National Park.
Officers reported seeing scratches on Laundrie's face, and a visibly distressed Petito admitted she had hit her fiancé's arm during an altercation.
However, the bodycam footage shows that the police officers in question never sought a detailed account on whether Laundrie had hit Petito.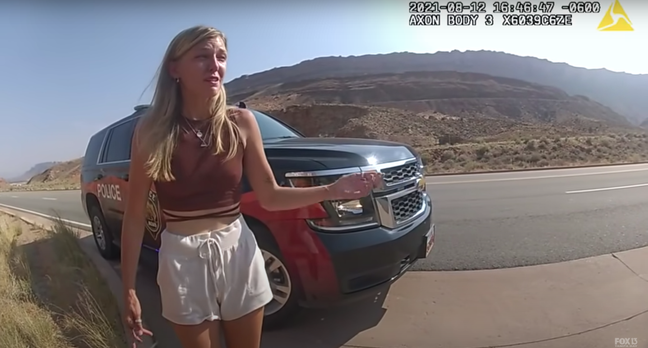 The officers are thought to have described the scenes as a "mental health" crisis, leading to no charges or arrests.
A statement issued by Moab City reads: "The Moab City Police Department has clear standards for officer conduct during a possible domestic dispute and our officers are trained to follow those standards and protocol.
"At this time, the City of Moab is unaware of any breach of Police Department policy during this incident. However, the City will conduct a formal investigation and, based on the results, will take any next steps that may be appropriate."
Moab Police Chief Bret Edge added: "In compliance with police department policy, we will conduct an investigation.
"The police department will identify an unaffiliated law enforcement agency to conduct the formal investigation on our behalf.
"Should the investigation identify areas for improvement we will take that information to heart, learn from it, and make changes if needed to ensure we are providing the best response and service to our community."
Petito's parents reported the 22-year-old influencer missing on 11th September, after failing to hear from her since August.
Laundrie had returned to his family home in Florida, but without Petito, and refused to disclose her whereabouts.
Human remains were recovered in Wyoming earlier this week, with preliminary findings confirming the body was Petito's and cause of death was homicide.
Laundrie has been classified as a person of interest in the case, and has since gone missing.