As England made the Euros final this year, for the first time in 55 years, there was barely a single person in the country who hadn't caught footie fever.
People were hanging flags outside their windows and singing in the streets. But Surrey-based couple Stephanie Woollams, 35, and her partner, Oli, 37, decided to do one better, marking the special milestone by throwing their very own football themed gender reveal party.
Steph and Oli had never held a bash to find out a baby's gender before, despite being parents to two children already.
But after seeing Tottenham Hotspur and England captain, Harry Kane, doing his own footie inspired version with his wife, Kate, they decided to follow in the famous pair's footsteps.
Little did they know just how wrong it would go...
Check out the video below:
Fans of Harry and Kate will know that they found out they were having a little boy after the striker kicked a ball into a football shaped balloon, so that it exploded bright blue dust.
And after seeing the adorable clip on Instagram, Steph decided she had to follow suit.
"We've never done a gender reveal, an it's our third child, but my husband is a massive Euros fan," she told Tyla.
"I had seen Harry Kane gender's reveal recently, and said 'Oh my god, if we get to the final let's do that'".
Unfortunately, as you can see in the video, the balloon the couple ordered ended up being a lot bigger than they'd anticipated.
And despite the fact they had invited their family to join them on Saturday, and decked their two sons - Theo, six, and Josh, three - out in football shirts, things didn't quite go to plan.
"So, we got everyone down from London, and we went and got the balloon in the morning," Steph recalled.
"The balloon was massive, it was much bigger than I thought it was gonna be, and I think that was the problem."
Looking back on the events that then unfolded, Steph said: "The idea was my husband would kick the ball like Harry Kane had and reveal the colour - and it was filled with blue or pink dust or confetti."
However, when Oli went to kick the ball at the balloon, at first nothing happened.
"He kicked it and he hadn't kicked it hard enough," she remembered. "We said 'you've gotta absolutely smack it like Harry Kane', so he did... and the weight snapped."
Before the couple knew it, the balloon was flying off into the sky, and the couple were still none the wiser as to whether they were having a boy or girl.
"Now I don't know where in the country [the balloon] is," she laughed. "Someone's got it!"
Steph and Oli subsequently had to call up the balloon company to find out that they are due to have a gorgeous little boy.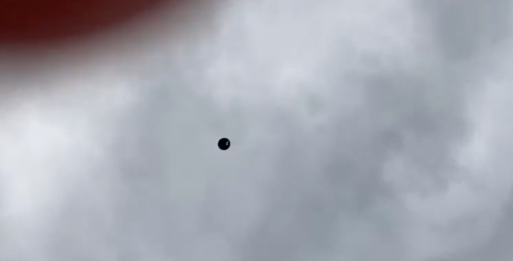 While they toyed with the idea of naming their son after Harry Kane, unfortunately it won't be possible as they already have a relative named Harry.
The couple admit that finding out their baby's gender over the phone was a bit of an anticlimax after all the organisation that went into their big reveal.
But they're just thrilled to have another little boy on the way (and to have had a good laugh thanks to the disastrous reveal!)
After sharing the video on social media, they were flooded with messages from friends and family who found the whole misfortune hilarious.
"Everyone is just sending crying laughter faces. My cousin, who I haven't spoken to for a while, was like 'I don't think I've ever laughed so much in my life'," Steph said.
At least that's a top tier family video to show your little'n when he's older, eh?