Retailer Coach has admitted to 'destroying' goods following a shocking video shared this week by Anna Sacks (aka @thetrashwalker).
The video, which was shared on Anna's TikTok displays a number of 'slashed' Coach handbags, originally discovered by @dumpsterdivingmama, who claims they were found in a bin outside a mall at the end of summer. You can watch the clip below:
"As you can see they're all slashed, which is Coach's policy," Anna alleges.
"This is what they do with unwanted merchandise, they order an employee to deliberately slash it so no-one can use it and then they write it off as a tax write off under the same tax loophole as if they were accidentally destroyed."
Following the video, Coach took to social media to issue a statement, explaining they have now stopped 'destroying goods'.
"We always strive to do better and we are committed to leading with purpose and embracing our responsibility as a global fashion brand to effect real and lasting change for our industry.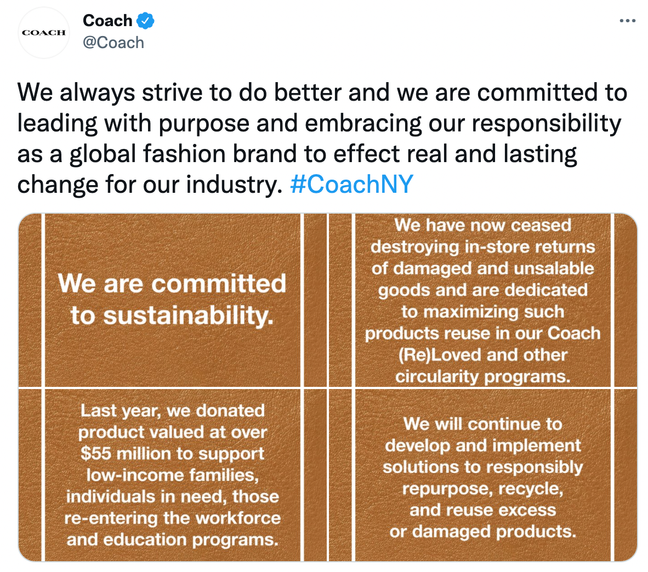 "... We are committed to sustainability. We have now ceased destroying in-store returns of damaged and unsalable goods and are dedicated to maximising such products reuse in our Coach (Re)Loved and other circularity programs.
"Last year, we donated product valued at over $55 million to support low-income families, individuals in need, those re-entering the workforce and education programs.
"We will continue to develop and implement solutions to responsibly repurpose, recycle and reuse excess or damaged products."
Coach's repair policy explains: "All of our bags are crafted to last. We know that things happen, though, and sometimes bags need repair.
"The good news is: we have our very own Coach Repair Workshop staffed by expert craftspeople who love your bags as much as you do.
"So, don't ditch it, repair it—it's another small thing we can do to keep bags out of landfill and reduce our impact on the planet."
In her video, Anna continued: Anna continued: "Coach actually has a repair programme for their bags... so I'm going to take some of these into Coach and ask them to repair them for me, because according to their website they really care about the circular economy, they really care about sustainability."