The Best Western hotel chain has been accused of 'fatphobia' after a manager's email faux-pas saw a plus-sized event organiser labelled as "clientele they did not want to attract".
Miranda Kane had emailed the chain's Marks Tey hotel in Colchester about using a Best Western hotel as a venue for a event which she said was for "plus-sized party animals."
But the 40-year-old was left fuming when she saw the quite curt reply, which had been sent to her by accident.
Miranda, who runs 'body positive' events company Club Indulge, questioned why plus size people were unwanted guests - when the 'sedate' group only hoped to have dinner, karaoke, and a jumble sale or bingo.
Best Western has since apologised for the email, and claimed that the manager was referring to the term "party-animals" and not the women's body types.
Miranda, who hails from north London, explained: "It's rude, offensive, conceited. All of it.
"It's fatphobia. I've been using the tag line 'plus size party animals' since day one and we've never had a problem with it.
"Their tagline is 'Hotels with Personality'. Oh, great. I can see exactly what your personality is mate."
Miranda said she "could have cried" when she saw the manager's hurtful reply land in her inbox.
"My heart stopped. I could not believe that someone in this day and age could send an email like that," she continued. "It's everything I've been working on for eight years. You come up against this and it just knocked me for six.
"They're trying to say it's the 'party animals' bit, but they host events, parties and weddings themselves. We've all seen what happens at the end of a wedding. They don't end up with everyone in bed by 6pm with a Horlicks.
"They can't bet who comes to a wedding. They can't say to the bride and groom 'oh, you can't have your mad uncle George or your gropey brother along'.
"I've met my customers; I can see who's coming to these weekends. It's such a conceited attitude."
Miranda has been hosting events with the group since 2013, and explained in her introductory email that her itinerary for the evening included dinner and a karaoke, a smaller event such as a jumble sale or bingo the following day, before a pool party and Sunday lunch.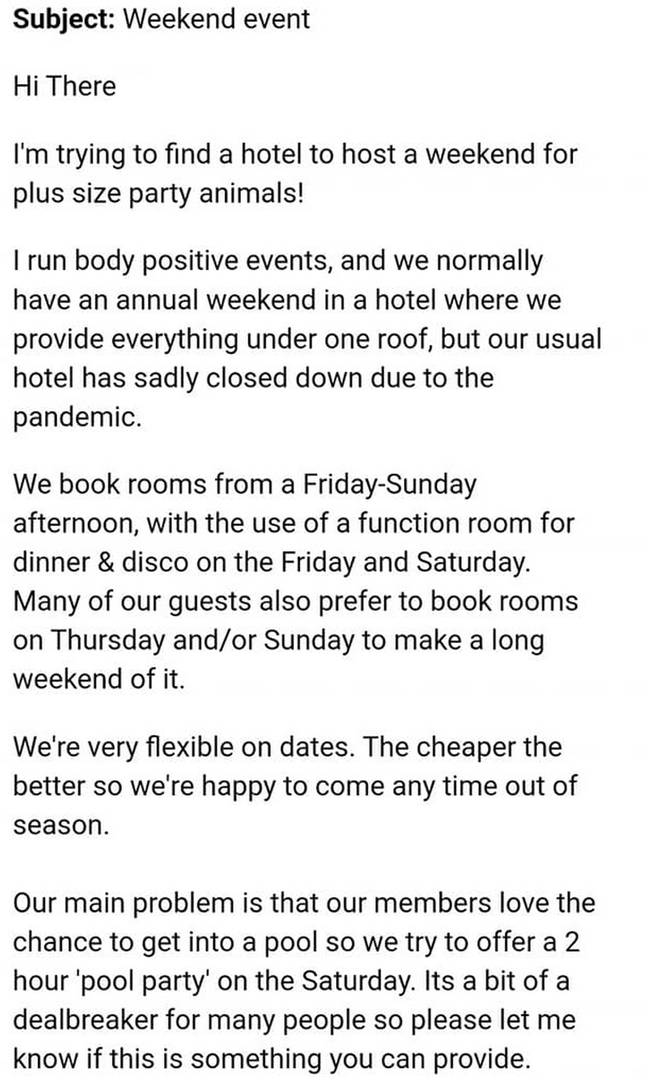 She has also dismissed the hotel's response to email mix-up as "pathetic".
"The manager sent a tweet and a really pathetic trying to say it was because of the 'party animal' bit, but again, they host their own parties and weddings.
"It's just a fun introduction to say who we are. I then say it's a body positive event.
"I've sent that email to dozens of hotels this week and not one of them have sent anything near that.
"If there's anyone out there that wants to host us, that wants £20,000 worth of business right after a pandemic, we'd love to hear from them."
A spokesperson for Best Western GB said: "All Best Western hotels are independently owned and operated.
"The General Manager from the Marks Tey hotel has responded directly to the original tweet from Miranda [Kane], and have expressed that they are hugely embarrassed and apologetic but insist that their response was in reply to the 'party animal' comments and nothing to do with body type."