We love Christmas - but we definitely don't love paying for it!
From turkey to tinsel, everything comes with a cost. It's hard to have a festive time while you're constantly thinking about the bill racking up.
Thankfully, TikTokers have got our backs once again. One woman in particular has shown her followers a genius hack to decorate your tree for less.
Content creator and mum-of-one Ninoshka (@ninoshka_xo) shared the gobsmacking secret behind her beautiful, perfectly-presented Christmas tree.
Instead of decorating the plant with baubles - which would no doubt cost a small fortune - she kitted it out with gold-tinted balloons.
But guess what...? It works! The homemade tree decorations look incredible, and we're so here for it.
Each half-blown-up balloon fits perfectly into the tree, creating the illusion of grand-looking baubles.
Neutral lovers will adore the colour pattern, as Ninoshka's décor follows a gold, white and black theme.
TikTok users are mind-blown at the simple festive hack.
"That actually looks amazing !" one impressed person said.
"Cutest tree I've ever seen" another complimented.
"Omg that looks amazing!!!" said a third.
"That is the smartest thing I've ever seen for decorating a tree! Kudos to you! Total game changer" a fourth exclaimed.
"Are you SERIOUS!?!?! I'm going to Party City NOW!!!!!!" said another.
"Girl! You just saved me!" enthused one viewer.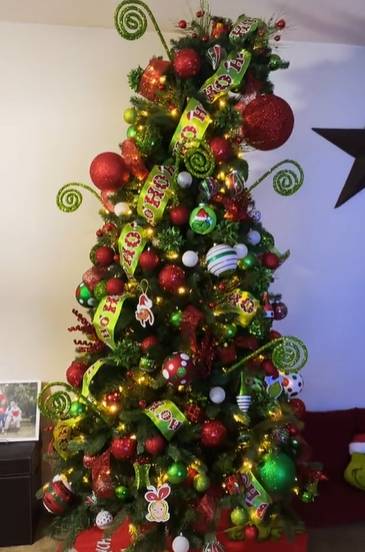 Despite the ease and brilliance of the hack, other people had something else on their minds.
"I have kids who won't leave my tree alone," one person joked.
"My cat said challenge accepted lol," said another.
According to the hack creator herself, the balloons need to be swapped out fairly regularly.
Popping and deflating may inevitably occur, so you should aim to change your balloons "after like two - three weeks".
But it looks amazing - and it's certainly a cheaper alternative to baubles!