We usually have garlic bread with lasagne, but now people are making actual garlic bread lasagne - and we are obsessed.
Posted by TikToker @foodmadesimple, the amazing creation replaces pasta sheets with garlic bread slices and we think it's genius!
You can watch the recipe video below:
To begin, you'll need plenty of garlic bread slices! You'll need to cook these first, before assembling in a lasagne dish and layering in the same way you would a regular lasagne.
After one layer of garlic bread, cover with bolognese sauce (which you can either make beforehand or buy in the supermarket), before adding a hefty amount of cheese. Next, add another layer of garlic bread slices and repeat the same process.
Finish with a third layer of garlic bread slices and top with a sprinkling of cheese. Pop in the oven until piping hot and golden brown!
And people are loving the recipe, with one person commenting on the video: "Garlic bread lasagne?! Where can I get these full recipes PLEASE!!?"
While another said: "You're onto something here."
And a third added: "Looks belting".
Meanwhile a fourth wrote: "Wait a minute it looks amazing!"
"I HAVE TO TRY THIS OMG," added a sixth.
Another revealed they'd already made the recipe for their family, and it was "an absolute hit".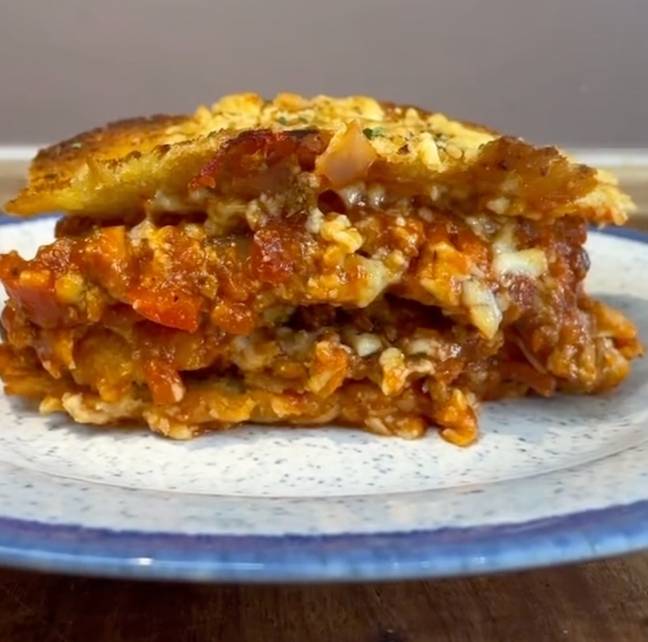 If you're a major garlic bread fan, @foodmadesimple has also been making cheesy garlic bread - from crumpets!
The TikToker first takes five crumpets before cutting them into quarters and arranging them in a baking dish.
They then coat the crumpets in plenty of melted garlic butter (drool) before adding a generous helping of cheese.
It's important not to be stingy on the garlic and cheese - the more the better if you ask us.
Then, all you need to do is pop in the oven for around 10 mins until the cheese has melted and the crumpets are golden brown. You can read more about that, here.