Luke Evans Says ITV's Serial Killer Series The Pembrokeshire Murders Is A 'Rollercoaster Ride'
Featured Image Credit: ITV
Warning: This article contains spoilers for The Pembrokeshire Murders

The synopsis for the upcoming three-part series reads: "Two unsolved double murders from the 1980s cast a shadow over the work of the Dyfed Powys police force. In 2006, newly promoted Detective Superintendent Steve Wilkins decided to reopen both cases.
"Employing pioneering forensic methods, Wilkins and his handpicked team found microscopic DNA and fibres that potentially linked the murders to a string of burglaries.
"The perpetrator of those robberies was nearing the end of his prison sentence, but if Steve Wilkins was right, he was also a serial killer ... Could Steve and his team find enough forensic evidence to charge their suspect before he was released to potentially kill again?"
Welsh actor and Hollywood star Luke Evans is starring as Senior Investigating Officer, Steve Wilkins, as he reopens the two unsolved double murders.
"The story hooked me immediately. I mean, also, I'm a sucker for a true story and this isn't just a true story, it's a shocking, true story about the worst serial killer that Wales has ever seen." Luke said, while explaining what attracted him to the script.
"I got to use my own Welsh accent for the first time in many, many, many years and it was a great experience all around."
Keith Allen plays John Cooper, the Welsh serial killer and diagnosed psychopath. He was given a whole life order in 2011 for the 1985 double murder of siblings Richard and Helen Thomas and the 1989 double murder of Peter and Gwenda Dixon.
He was sentenced to 16 years in 1998 at Swansea Crown Court for 30 counts of burglary and a robbery. During this time the police collected further evidence against him.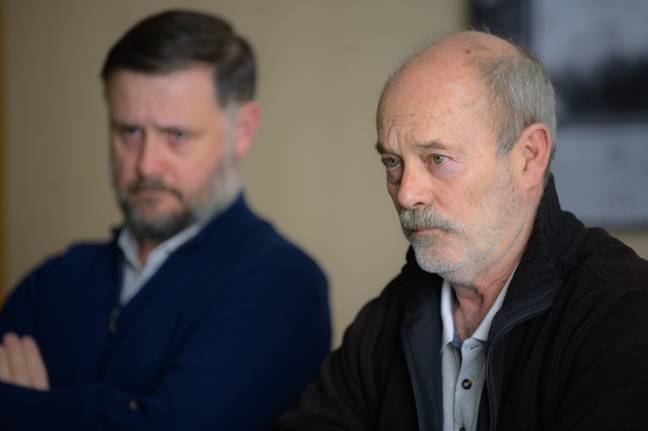 Cooper appeared on the TV gameshow Bullseye in May 1989, in the month before the murders of Peter and Gwenda Dixon. Footage from his appearance was later used as evidence against him by comparing his image with a sketch of a suspect in the Dixon's murder.
Executive producer, Simon Heath, explains that it was a "huge breakthrough case". An artist impression had been done of a suspect after the second double murder but John Cooper had destroyed all photos of himself from that period. "There was no contemporary reference point to put Cooper next to the artist's impression. And that was an ongoing problem for Steve," Simon explains.
Steve Wilkins was at a pub after his son's football match and discovered it was the pub that Cooper used to drink at and there was a picture of Cooper on the board because he was the captain of the darts team. "The landlord tipped him off that actually he he'd been on Bullseye years before."
Steve Wilkins, with the help of Welsh ITV journalist Jonathan Hill, who had been covering the case, managed to track down the footage at the ITV archive in Leeds. Simon said: "As part of making the show we got hold of the same footage and then we were left with the problem of 'how can you incorporate it within our fictional depiction of the story?'
"So, what we actually did was super imposed through VFX, a de-aged, image of Keith Allen, onto the original footage of Cooper. Testament to the technical guys, they've done a fantastic job, and it's extremely convincing."
In September 2013, Jonathan Hill and Steve Wilkins released a book, The Pembrokeshire Murders: Catching the Bullseye Killer on which the ITV show is based.
Luke said: "It's not just about the crimes, it's about the people that find this this man and how they find him and the unbelievable twists that their story takes during the investigation, which just are mind boggling."
One of the key developments related to forensics was a minuscule speck of blood found in a pair of women's beach shorts that Cooper had taken from one of his victims. He then asked his wife, Pat Cooper, who was an accomplished seamstress, to alter them. The evidence was uncovered by forensic scientist Angela Gallop and her team, after it had been accidentally preserved. Gallop also worked on the Stephen Lawrence case.
After being released from prison in January 2009 Cooper was arrested in May 2009 after Detective Superintendent Steve Wilkins reopened both unsolved double murders in 2006 after they had become cold cases due to advancements in forensic technology.
Evans said: "These stories do feel like they can't be true, they can't be real. But this one has so many twists and turns and it almost feels many, many times during the story that the whole thing is going to go cold once again, because the forensic evidence is so minimal and the budgets were running out and people were losing faith."
Alexandria Riley, who plays Ella Richards, remembers the court case. "It was completely surreal. It was Stranger Than Fiction and I just remember the horror and shock like in the family home and friends. But also the fear that something like this could happen so close to home," she said.
Cooper was convicted in May 2011 for both double murders. He was also sentenced for the rape of a 16 year-old girl and a sexual assault on a 15 year-old girl committed in 1996. Both of the latter crimes were carried out at gunpoint in Milford Haven, Pembrokeshire.
His appeal against the conviction was rejected in November 2012.
The Pembrokeshire Murders premieres in early 2021 on ITV.