Netflix's New Horror-Comedy 'Hubie Halloween' Starring Adam Sandler And Maya Rudolph Drops Today
Featured Image Credit: Netflix
Adam Sandler fans, take note, because the comedy actor's new movie Hubie Halloween drops on Netflix today - and it's gone straight on our spooky season watch-list.
Directed by Sandler's long-time creative collaborator Steven Brill, the horror-comedy follows Hubie Dubois (Sandler), a community volunteer who is the butt of all jokes in his neighbourhood of Salem, Massachusetts.
You can check out the trailer here:
Local scaredy-cat and all-round town eccentric Hubie is dedicated to keeping his fellow citizens safe on Halloween - and is seen as something of a fun sponge as a result.
But when Salem turns truly spooky on the night of 31st October, "nicest guy in town" Hubie finds himself in the midst of a real-life murder investigation.
Gradually, people from the town start disappearing, and unlikely hero Hubie has to convince the local cops (Kevin James, Kenan Thompson) to investigate the matter.
As you'd expect from a Sandler film, there's plenty of slapstick, silliness and goofball dialogue - all combined with a touch of the spooks.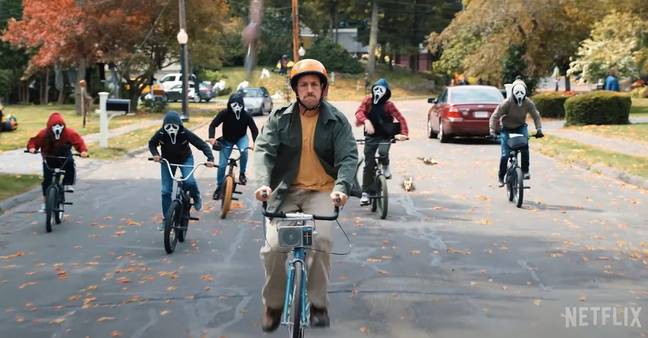 Bridesmaids star Maya Rudolph brings her comedy credentials to the movie, appearing alongside Sandler.
Elsewhere on the Hubie Halloween cast list are includes Julie Bowen, Ray Liotta, Rob Schneider, June Squibb, Shaquille O'Neal, Michael Chiklis, Tim Meadows, Karan Brar, George Wallace, Noah Schnapp, Paris Berelc, China Anne McClain, and Steve Buscemi.
Sandler recently enjoyed a wave of praise and positive headlines for his role as charismatic jeweller Howard Ratner in Netflix hit Uncut Gems.
Hubie Halloween sees him return to the territory he's best known for, with plenty of trademark tomfoolery.
We can't wait to settle down for this spooky mystery - with a generous side of Sandler's signature screwball gags.
Hubie Halloween is available to watch on Netflix now.