The 'I'm A Celebrity... Get Me Out Of Here!' 2019 Line-Up Has Been Revealed
Featured Image Credit: ITV
With just days to go until I'm a Celebrity... Get Me Out of Here! begins, excitement has been mounting about this year's line-up ever since several famous faces were spotted arriving to Brisbane Airport.
And after weeks of speculation, we've FINALLY got the official jungle class of 2019 - and it looks like it'll be a good one (can you imagine Nadine Coyle jumping out of a helicopter?)
The new series kicks off on Sunday, 17th November with hosts Ant and Dec once again at the helm with a slew of celebrity names vying for the jungle crown:
Decorated Olympian and reality star Caitlyn jetted into Australia yesterday to take part in this year's I'm A Celeb.
Caitlyn - who has already appeared on the US version of the show in 2003 - is rumoured to be getting a whopping £500,000 for her appearance this year.
"I did the US version of this and it was a very interesting experience last time I did it," explains the star. "Being in the Jungle is certainly not easy and yes, it is totally back to basics but I thought this would be a great opportunity to leave everything behind for three weeks. Last time, it was almost like a cleansing of the soul!"
It remains to be see whether the mum-of-six (of ten if you include Kim, Khloe, Kourtney and Rob) will spill any secrets about the Kardashians while she's in the jungle.
Former England rugby player James, who is married to Chloe Madeley, will no doubt showcase his naturally competitive side Down Under.
He's cleverly keeping his phobias under wraps because he doesn't want ITV to use them against him.
James - who enjoyed a 17-year career that saw him play for England, Wasps and Northampton - admits: "A lot of my team mates had said in the past 'wouldn't it be fun if you went into the Jungle' but I always laughed as a) I thought nobody would approach me and b) I thought I was going to be in the World Cup but I retired sooner than I thought!"
"And so to be asked is such a special opportunity. You will get to test yourself in amazing surroundings and find out a little bit more about yourself. I am excited."

EastEnders star Jacqueline is swapping the stage for the jungle as she stars in this year's I'm A Celeb after she was initially lined-up for X Factor: Celebrity.
Following well documented cheating rumours her husband Dan Osborne has been forced to vehemently deny, Jacqueline is hoping to prove that she is not a "pushover" and a "doormat" while in the jungle.
The 27-year-old - who quit in 2018 as Lauren Branning in the BBC1 drama after eight years - also admits the toughest part of taking part in this year's I'm a Celebrity is going to be entering as herself rather than as a fictional character.

"It's going to be so difficult going in as me and that's definitely going to be the hardest part," says Jacqueline. "I have never done a show where I have been myself.

"My old colleagues on EastEnders are going to be shocked. I don't think they can imagine me in there. I don't like creatures. It is not my thing."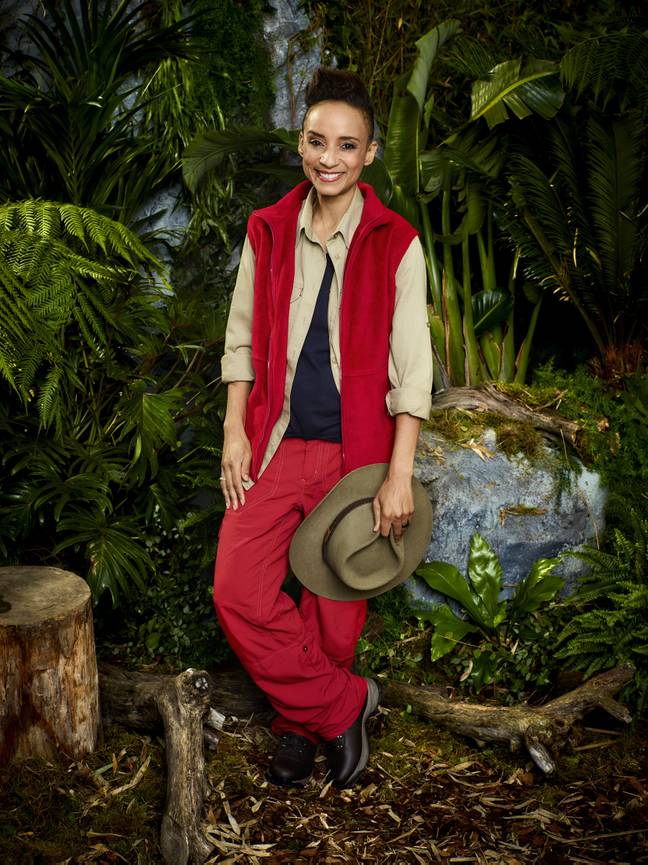 The BBC Radio 1 DJ was first catapulted into the spotlight on 2007's Big Brother and she's returning to her reality telly roots for the upcoming ITV series.
Adele - who has hosted the BBC's early morning show for more than four years - is so petrified of spiders that she has to have cedar blocks around her house to prevent them from daring to enter it. Did someone not tell her the premise of I'm A Celeb?!
"I've only camped once and that was the worst night of my life," she reveals. "I hate spiders. If I see one, I can't speak, I freeze and I do this weird thing where I wring my hands together!
"I don't know where it has come from but as I have got older, I have hated them more and it has now got to the point where I have to have cedar blocks in my house!"
Let's hope former Arsenal footballer Ian isn't squeamish as we have a feeling this year's Bushtucker Trials will be particularly gruesome.
He was convinced to go on the show thanks to last year's winner, Harry Redknapp.
He says: "When I was first approached this year, we thought about it for ages as it is not something where you think 'ah I will do that'."
"I have been asked to do it every year and every time, I have always thought I am definitely not doing that because there was more and more jeopardy involved. But I think the last series was one of the best I have seen in respect of camaraderie."
"Harry and I play golf together and we spoke about it. He had a really great time, it was a fantastic thing for him to do and he is still talking about it to this day! Now it does appeal to me at this particular time. I like the vibe, it is a really cool show and I am really intrigued."
We're intrigued to see you down under, too, Ian!
It was reported back in October that singer Nadine had signed up for I'm A Celebrity - let's see if she spills any news on a potential Girls Aloud reunion while in the Jungle?
Nadine says she's going on the show to rid herself of her fear of trying new things.
The 34-year-old explains since she became a Mum to her daughter, Anaiya, she has lost her gutsy attitude and become quite fearful of simple things in life like flying.
And by signing up for I'm a Celebrity, she hopes stepping outside her comfort zone will give her renewed confidence.
"I really want to try something completely new. I am scared of so many things. I used to be brave. In the past, I've opened a restaurant, had a record label, had my daughter and it was go, go, go with all of these.
"Now I have got so fearful even being in the car, flying or general things. I think it is since I became a parent that I am much more afraid."

Irish comedian and Ex On The Beach narrator Andrew Maxwell is probably a surprise addition to this year's line-up but he'll be sure to bring craic and laughs to the camp.
The 45-year-old also reveals he is glad he has the perfect excuse to miss listening to the politicians in the run-up to the general election.
Andrew explains: "I am a massive current affairs junkie but to be honest, even I have had enough (of politics!).
"I will still vote in the general election but the idea of missing all the guff because I am doing a Bushtucker Trial does tickle me quite a bit!"
"I am really looking forward to being in Australia and being part of this year's I'm a Celebrity. It was a no brainer when they asked me and I said 'yes' immediately."

He's so committed to his new gig that he even practiced putting a spider on his face in the run up to jetting to Aus after finding it in his loft. We love the dedication...
Good Morning Britain presenter Kate, 52, initially remained coy about her involvement Down Under last month when her co-host Ben Shephard quizzed her about the rumours.
Refusing to confirm or deny at the time, she said: "Even if I was doing it, I couldn't say I was doing it. I don't like heights. I don't like the dark. I don't like camping, even in a tent."
Looks like she's in for a treat while sleeping in camp among the creepy crawlies.
She says her GMB colleagues will have a shock when they find out she is taking part especially as she kept it a secret from them beforehand.
"I can't trust them to keep a secret," she says as she explains why she didn't tell them. "But I do think Ben Shepherd is going to be beyond delighted when he finds out as for years he has said 'OMG I'd love to see you on the show. You are just so hilarious and I think you will be good'.
"He thinks I will be incredibly useless and I know he will have great pleasure seeing me squirm."

Capital Breakfast Show host Roman, 26, is another radio personality confirmed for this year's eventful series.
He's hoping to prove he's not just Roman Kemp's son, and is excited for everyone to get to know him better.
Laughing as he readily admits he has some 'strange fears', the breakfast show DJ reveals it would be his worst nightmare if there were a new Bushtucker Trial involving his big phobia - cotton wool!
"Some of the fears I have got are odd. I have got a strange fear of cotton wool. Why am I scared? It's the texture and sound of it. I can't even talk about it without getting scared and I definitely can't touch it!"
"I don't know when this fear first started but the only way I can describe it is like a nail going down a chalkboard - it has that effect on me. I hate it so much that if I am in a coffin with cotton wool, then that is going to be the worst thing ever for me!"

Singer Myles is one fourth of X Factor 2017 winners Rak-Su and while he won the talent show with his bandmates, he's going to try win over the camp on his own.
He might have recently split with Love Island's Gabby Allen, but he adamant he isn't looking for love.
"I am single. I have just got out of a relationship but I think I want to be single for a bit and embrace single life," he says.

"I am a massive fan of the show and Ant and Dec. They were the reason I was a Newcastle FC fan initially growing up! Spending time with them and potentially people you have idolised over the years is so exciting."

So, which one do we think will be subjected to eating kangaroo testicles first?
I'm A Celebrity... Get Me Out Of Here! kicks off on Sunday, 17th November on ITV