Tiger King's Carole Baskin Is Working On Her Own Documentary Series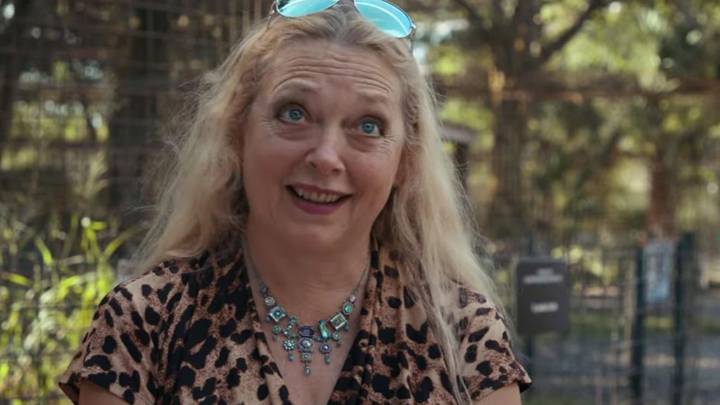 Featured Image Credit: Netflix
During an interview with RadioTimes.com, the animal activist, 59, was quizzed on whether she wanted to tell her side of her feud with the infamous Joe Exotic, and Carol revealed she had indeed provided material to a couple of different sources.
It was then that Carol confessed she had her own TV project in the works, too.
"We are negotiating to come out with our own series but our series isn't about [Joe], it's actually about the work that we've been doing all these years which is to expose the animal abusers, expose what people don't see behind closed doors to the public and then put pressure on law enforcement to actually enforce the laws," she went on.
"I think there is a thirst to know more about that industry and I think that that series will quench that thirst."
More Carole Baskin in leopard print talking about big cats? Yes please!
Carole shot to international fame when he was the subject of the now infamous Netflix documentary series, featuring as Joe Exotic's nemesis, and owner of rival animal park, Big Cat Rescue.
Joe is currently serving a 22 year prison sentence for plotting to murder her.
Carole says she always thought Tiger King was a documentary about animal cruelty, rather than her personal life, and is said to have considered the series a "freak show" when it aired.
Unbeknownst to the big cat fanatic while filming, the Netflix series also put her at the centre of a conspiracy, as it delved into her husband, Don Lewis' disappearance and death.
Many believe it was Carole who was responsible for her husband's disappearance, with Don's family - ex wife Gladys Lewis Cross, daughters Donna Pettis, Lynda Sanchez and Gale Rathbone - and her nemesis Joe Exotic even theorising she crushed Don in her meat grinder and fed him to their tigers.
Carole has always vehemently denied the allegations, explaining "the unsavoury lies are better for getting viewers" (and it's worth noting there's no evidence to back the claims up).