The Definitive Ranking Of The Most Iconic RuPaul's Drag Race Outfits Of All Time
Unless you've been living under a rock, you'll surely know the wonder and glory that is RuPaul's Drag Race, but did you know that the first ever episode of Drag Race aired eight years ago this month? That's 103 episodes staring 100 queens, which is an awful lot of outfits, mishaps, runways and shashays to have graced out screens.
We've already given you our most iconic moments of the reality competition talent show and now; through hours of mindless binging, doing nothing but eating, sleeping and breathing all things Drag Race, we've been able to tot up our top 18 most iconic outfits in drag race herstory.
18. Season Seven - Trixie Mattel and Pearl - Twisted Sisters
So not only did Mama Ru give us a look into the world of conjoined drag queens, we also got blessed with the ever so brief return of Trixie Mattel! This pretty/unpretty sister duo gave us all life before Trixie got kicked out again like two episodes later...
undefined

17. Season Seven - Max - Death Becomes Her
Week after week, Michelle would critique Max with the same old criticism that sooner or later, her granny realness would have to take a back seat and the towering beauty would have to don something other than the usual grey wig. Thank god she ignored Visage and did what she does best with this beyond beautiful/gory glamour!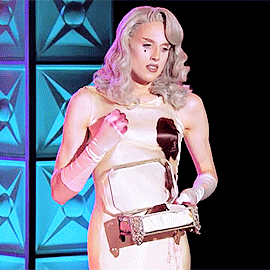 undefined

16. Season Six - Gia Gunn - The Entrance
The thing to remember with Drag Race is that first impressions count. And when Gia walked in with a purse larger than life, did she instantly steal the show? Absolutely.
15. Season Three - Raja - Carrie Chic
And so, Halloween inspiration was born.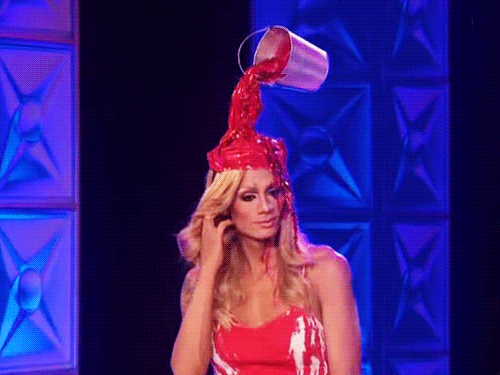 undefined

14. Season Five - Alaska - Trash Couture
Not everybody can wrap layers of plastic bag and wrap around themselves and somehow make it work! Yes, Alaska has a figure that keeps us gagging for days, but this look stood out from the crowd in the opening episode of season five. Then again, anything was better than what Serena Chacha came out with...
13. Season Five - Jinkx Monsoon - The Living Dead
Jinkx's kooky and fun loving attitude wasn't always taken on board by the judges, and nine times out of ten, someone would have some to say about her chosen look that week. But during this runway turn out, Jinkx went from lonely outsider to skeletal senorita and pushed through Rolaskatox as the dark horse of the competition.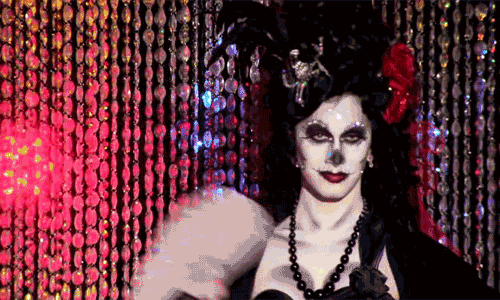 undefined

12. Season One - Shannel - Medusa

Rewind time to season one of RuPaul's Drag Race and we find Shannel. Shannel was the original shady queen, and was the first to bring a little more creativity in her runway looks. This Medusa-inspired get up was nothing like ever seen before on Drag Race. She was also the first to 'lose' her wig during a lipsync. The original diva.
11. Season Seven - Pearl - The Snake
Pearl is a queen who can give just a good as she gets. That time giving Ru back some sass will go down in herstory, but it wasn't just Pearl's IDGAF demeanour that made her such an incredible contestant. The make-up. The outfit. The legs that went on for days. Pearl's slippery snake inspired look will always be a personal fave.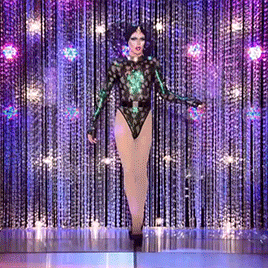 undefined

More Like ThisMore Like This
1 of 6
10. Season Five - Ivy Winters - Circus Girl Glam
The girl walked a runway on stilts for Christ sake! Credit where credit's due.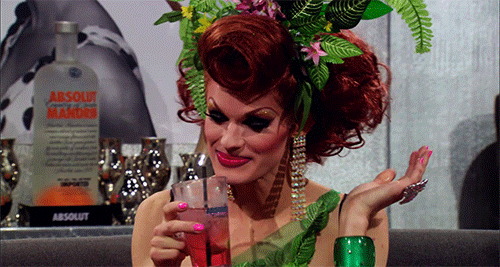 undefined
9. Season Five - Roxxxy Andrews - Sugar Ball
Say what you want about Roxxxy's shade towards Jinkx during season five, you cant deny the girl took her critique and rolled with it. Not loving her original look, Ru hinted Roxxxy should to go in another direction with her Sugar Ball look. Did she bitch and moan? Hell no, that girl spent hours gluing individual liquorice strands to her gown. WHERE MA PEOPLE AT?!
undefined

8. Season Seven - Violet Chachki - Cinched for Days

How? Just how? Not only was this look stupidly beautiful, but just how?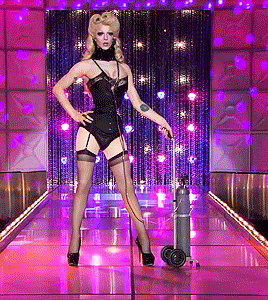 undefined

7. Season Eight - Acid Betty - Acid Trip
It's all in the name really isn't it? Known for her extravagant and high concept looks, Betty never disappointed in her too-short stint on the show. Her forth runway look consisted of this weird mutated, nuclear fish thing, and she just kills it.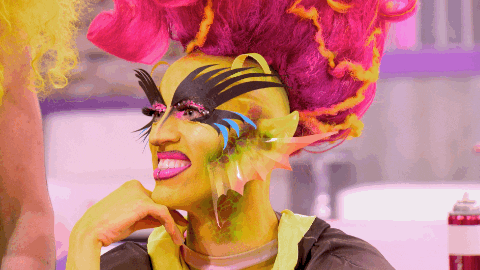 undefined

6. Season Five - Detox - Silver Screen Queen
Detox showed up to season five reunion show head to toe in black and white 1920's glam. It was a beyond perfect optical illusion that really showed off Detox's drag talent. The dramatic make up skills and the wig paired perfectly together for this walking, talking portrait.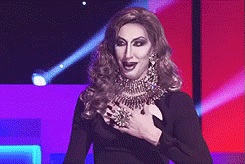 undefined
5. Season Five - Roxxxy Andrews - Whip My Hair Back and Forth
If there's one thing Drag Race is not short of, it's contestants losing all sorts of attire during the heat of a lip sync battle, but Roxxxy stepped up. Losing one wig to find another perfectly placed underneath? Arguably one of the best lip syncs to date.
4. Season Four - Sharon Needles - Rupocalypse
When Sharon Needles first stepped into the work room, no one thought she'd last long. She was like nothing seen before in Drag Race, and that's what made her so special. Her first look of season four showed us exactly what to expect from Sharon. It was gory and ugly and we loved it.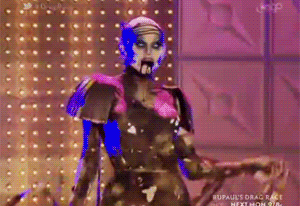 undefined

3. Season Six - Courtney Act - Wings
She was critiqued for 'resting on pretty' throughout the competition, and as Drag Race's fishiest queen to date, can you blame her? Courtney instantly stood out from the crowd for her beauty and voice, but it was her talent on the runway that made her a force to be reckoned with. Her wings costume reveal propelled her into the limelight.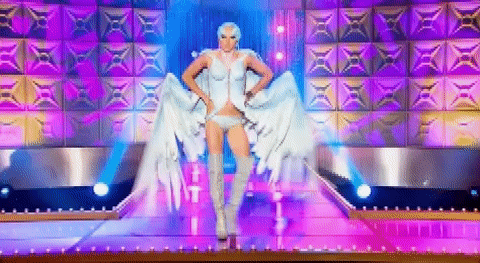 undefined

2. Season Seven - Violet Chachki - Two-in-One
From the second we saw that tartan little number in the first episode of season seven, we knew we were in for a treat when it came to bitchy and catty Violet. Although she wasn't the most popular with other contestants, she quickly became a fan fave.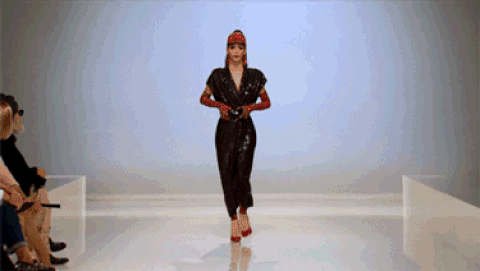 undefined

1. All Stars 2 - Detox - Every. Single. Look.
Anybody who is anybody who watched the latest instalment of All Stars can't deny one thing: that Detox slayed throughout the entire competition. Back in season five, she had her fair few misses which clinched the top three status away from her, fast forward to 2016, and Detox was nothing but hits. From her metallic robot inspired runway, to her pop star alter ego in 'Read U Wrote U', Detox smashed every challenge that came her way and looked bloody fantastic doing so too.
Do you agree with us? Think we've missed a major iconic outfit? Let us know in the comments.

Featured Image Credit: Logo TV
Topics: Fashion, Queen, RuPaul, RuPaul's Drag Race
Chosen for YouChosen for You
Most Read StoriesMost Read