Coleen Nolan Admits 'Crying For Days' Following Explosive Kim Woodburn Row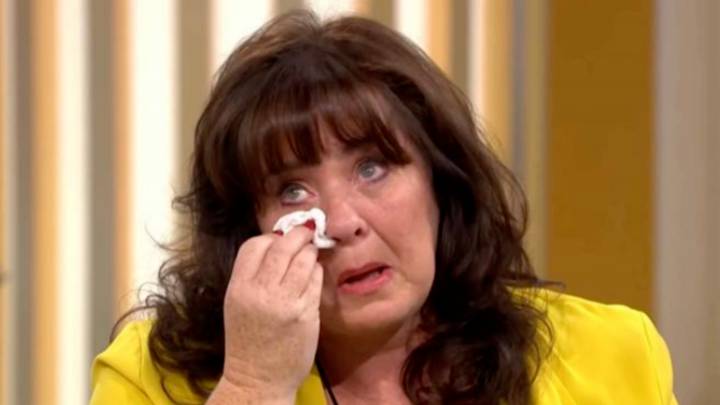 Featured Image Credit: ITV
Coleen Nolan has opened up about 'crying for 10 days' after her dramatic on-screen row with Kim Woodburn.
The Loose Women panelist returned to the ITV chat show on Monday, where she discussed her devastation following the heated argument that saw her branded a 'bully' by online trolls.
It was Coleen's first TV appearance in months after she and Kim failed to put an end to their 18-month feud following their stint in the Celebrity Big Brother house together...
Now, she has revealed the extent to which the row with the House Clean Is Your House star affected her.
"I must have cried for ten days after deciding to take a break, and I am someone who doesn't cry easily," she told the Daily Mirror. "But I think I've come out stronger."
Discussing the hostile reaction she faced on Twitter, Coleen said: "It's just horrendous. They almost think they have a right because you are in the public eye.
"At the time I thought, 'I don't know how to deal with this' and that brought to the surface everything I was trying to deal with.
"I was trying to get my divorce sorted and sell my house. I was grieving for Bernie and Linda's secondary cancer ­diagnosis."
It's fair to say that Coleen has dealt with an awful lot recently, having recently split with her second husband, Ray, losing her sister Bernie, and supporting Linda following her illness.
The 53-year-old broke down in tears while appearing on This Morning shortly after the explosive row and after that she pulled out of all her TV commitments amid calls on social media for her to be sacked.
Upon her return to the Loose Women panel, Coleen was greeted with cheers from the audience who chanted her name.
"Don't make me cry," she told the audience as she settled back into her old seat.
During the heated argument, Kim called Coleen 'a piece of filth' and 'lying trash' before storming off the set in tears.
However, more than 3,000 people complained to ITV about how Coleen treated Kim, with many demanding she be sacked from the programme.