Why Love Islanders Have Been Warned Not To Have Sex On Screen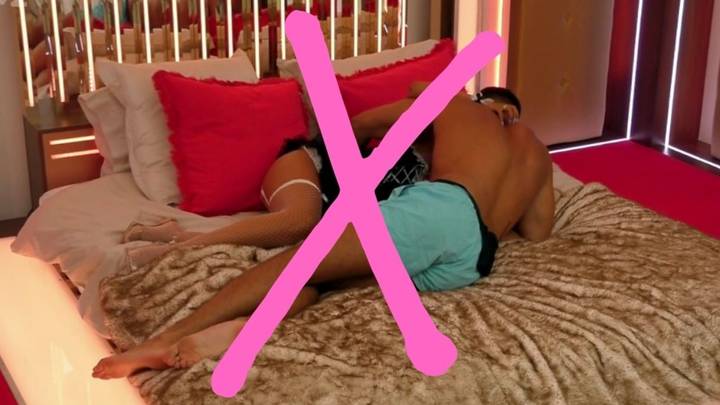 Featured Image Credit: ITV
Love Island 2021 is just days away and ahead of that, the new Islanders have been warned by Ex On the Beach's Jess Impiazzi about having sex on screen.
Jess starred on the MTV show in 2015, which is when having sex on the show nearly ruined her career.
She said young reality TV stars need to be very "careful" about their actions on camera as it "never goes away."
She told The Sun, and she doesn't want others to experience the same thing.
"They are young when they go in, you've got to think long-term, a lot of these shows are a conveyor belt of people.
"There's a couple that will do well and carry on doing well for a few years but you've got to be prepared for when it's not and you don't want to ruin anything for your future.
"Even if you are [doing well], it will still die down at one point and you've got to remember to stay true to yourself."
"I completely regret it, there are things in my life where I would love to take an eraser and wipe away but I can't.
"I suppose that's the main message for any youngsters going onto the show.
"I'm 31, I see things very different than when I was 22 on the show - just be really mindful."
Jess isn't the only reality star to learn the hard way what happens when you have sex on a reality TV show.
Remember the former Miss Great Britain Zara Holland, who was stripped of that title when she had sex with Alex Bowen on Love Island in 2016?
Although difficult to stay abstinent when treated to a romantic night in the Hideaway, Love Island stars have been more aware about the consequences of doing it all on screen since then.
Love Island producers have also stopped showing sex scenes in the later series.
What is the 'Do Bits Society' on Love Island?
It's down to this stigma around having full on sex on the show that the infamous 'Do Bits Society' was established by Wes Nelson in season 4 of Love Island, after having some fun under the sheets with Laura Anderson.
For those who aren't sure, Islanders were admitted to the 'Do Bits Society' once they did something intimate with another Islander - be that a bit of fondling or full on sex. Megan and Eyal were the first people to go all the way in the villa in that series.
Love Island comes to ITV2 on Monday 28th June at 9pm.
Can't get enough of Love Island? Join our Facebook Group - Love Island Obsessives - and keep up to date with the latest drama.